How about: Things to do > Day trips > 1 week > Best beaches > Airport to Lagos
Lagos, Portugal Tourist Guide - Fully Updated for 2017!
Lagos is a historic and lively city that is situated on the beautiful western Algarve coastline. As a holiday destination Lagos offers visitors glorious beaches, buzzing nightlife and a charming historic centre, which has retained its character and charm. Within the Lagos region is an abundance of varied sights and activities, which makes the city a fantastic destination for tourists who want more than just great beaches for their holiday.
The river front of Lagos Portugal
For the intrepid visitor, Lagos can be used as a base from which to explore the entire western Algarve and there are numerous enjoyable day trips, easily accessible by public transport. This article will provide an introduction to Lagos, by answering some of the common holiday questions and providing links to further in-depth information.
Why Visit Lagos, Portugal?
Lagos perfectly blends traditional Portuguese culture and beautiful beaches with great tourist facilities. Close to Lagos is a variety of activities and sights, which range from water parks and zoos through to historic monument and challenging hiking trails. Lagos has a charmingly preserved town center, which is surrounded by the ancient Moorish walls and the pretty harbour estuary.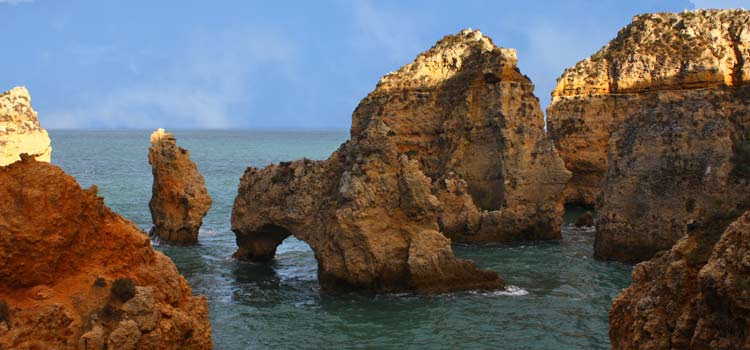 The Ponta da Piedade coastline, near Lagos
To the south of Lagos is the Ponta da Piedade headland, a series of highly weathered cliffs that are lined with spectacular grottos, arches, sea caves, and are regarded as the finest natural feature of the Algarve. Extending to the east of Lagos is the 4km long Meia Praia Beach, which is the longest sandy beach on the western side of the Algarve. There are many interesting day trips from Lagos including the towns of Sagres, Silves, Luz and Portimão. There is so much to do in Lagos and for a guide to the major sights and activities, please click here.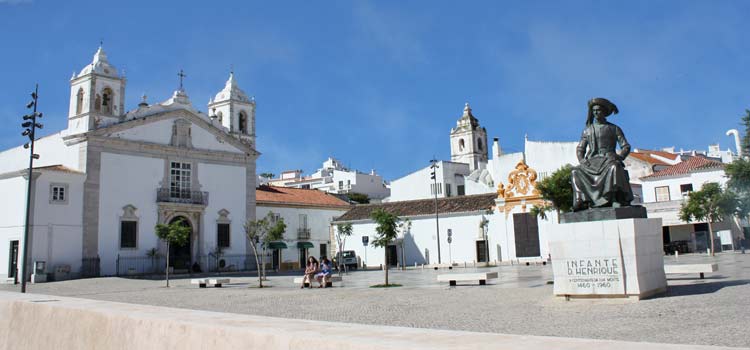 The historic centre of Lagos
When to Visit Lagos and southern Portugal?
The Algarve is blessed with a wonderful climate with long hot summers and pleasant spring and autumns. The summer months of southern Portugal are characterized by their hot dry weather, with temperatures reaching a maximum of 35C. The main tourist season is from June until the end of August and if planning to visit during the height of the summer, always book well in advance as hotels sell out quickly. For a list of the best hotels in Lagos please click here.
The average weather conditions for Lagos Portugal
The Spring and Autumn seasons are bright and sunny, and the Algarve boasts over 3,000 hours of sun a year (compared to 1,450 hours for London, 1,840 for Paris or 2,150 hours for New York). Temperatures in Lagos are suitable for spending time on the beach from early May through to mid-October.
Winters are mild but the weather can be unpredictable with an equal number of good or bad weather days. Lagos has a large permanent population therefore most of the restaurants and cafes will remain open during the winter season but the majority of tourist facilities close at the end of October and re-open for Easter.
How long to spend in Lagos?
Lagos is ideal as a holiday destination for a 1-week holiday. A week in Lagos could combine time on the beaches and a couple excursions to the interesting towns of the region. In the city there are sufficient restaurants to eat well and somewhere different every night. For a full guide to a 1-week holiday to Lagos, please click here.
The Porto de Mos beach
For those visitors who are touring southern Portugal plan to spend at least two days in Lagos. The first day would explore the historic sights of the town and the second day would visit the dramatic Ponta da Piedade cliffs and the beautiful of Praia do Ana beach. Alternatively, Lagos could be used as a base from which to explore the Western Algarve, for a list of the popular day trips from Lagos please click here.
Who is a Lagos suitable for?
The extensive range of sights and activities means that Lagos is perfectly suited for a range of different visitors, and this includes families, young couples and more mature visitors. Visitors seeking a cultural holiday will be impress by the number of historic monuments and the traditional heritage of Lagos, while younger couples will discover a lively nightlife and numerous exciting activities. Lagos is not designed for large groups wanting to drink excessively and party uncontrollably (typically stag or hen do's), for this head to the Strip in Albufeira.
A great night in Lagos starts with a Sagres beer!
What about families?
Lagos is a great destination for families as it has a good range of family-friendly accommodation and restaurant options. The town is more relaxed than other resorts, such as Albufeira or Praia de Rocha, which makes it very safe and quieter at night. Lagos also has good bus services to family-friendly entertainment parks, which include; Zoomarine and Slide & Splash.
Does Lagos have great beaches?
Lagos has some of the finest beaches of southern Portugal and within walking distance of the town are four wonderful beaches. The Meia Praia is the largest beach of the region and is a vast sandy beach that extends for 3km from Lagos. The Praia Dona Ana and Praia do Pinhão are beautiful small beaches that are surrounded by sandstone cliffs and provide crystal clear bathing waters. The pretty Praia da Batata beach is located at the mouth of the estuary and overlooks the little fort. From Lagos it is only a short bus ride from the surfing beaches of Sagres, which can be visited as a day trip.
The stunning Praia Dona Ana Beach
The sheer number of varied beaches in the vicinity of Lagos means that, even at the height of the summer, space can be easily found for a relaxing day under the glorious sun. Visitors are often surprised by extremely cold water temperatures in the Algarve, which are driven by the Atlantic Ocean rather than the warmer Mediterranean Sea. For a guide to the beaches of Lagos please click here.
What is the best Sight of Lagos?
The Ponta da Piedade is a series of highly weathered cliffs that form the southern headland of Lagos. The powerful Atlantic Ocean has chiseled stone arches, grottos and sea caves into the colourful sandstone cliffs and these cliffs are considered the best natural feature of the Algarve. The Ponta da Piedade formations can be seen viewed from cliff tops but a much more enjoyable approach is to hire a boat and view them from the water. Click here for a guide to the Ponta da Piedade.
The Ponta da Piedade cliffs are best explored by boat
What are the best day trips from Lagos?
The two best day trips from Lagos are to the historic town of Silves and the surfing town of Sagres. Silves was the ancient capital of the Algarve and remnants of this glorious past are found throughout the peaceful and relaxed town. The prominent feature of Silves is the massive red brick castle, while traditional houses and shops line the cobbled streets that lead down to the river.
Silves is a very scenic town in southern Portugal
The town of Sagres is at the western tip of mainland Europe and this coastline is battered by strong winds and powerful Atlantic waves. The region comprises of dramatic cliffs and vast beaches and is ideal for tourists who appreciate natures raw power. Sagres is a popular surfing destination and there are many excellent surfing schools.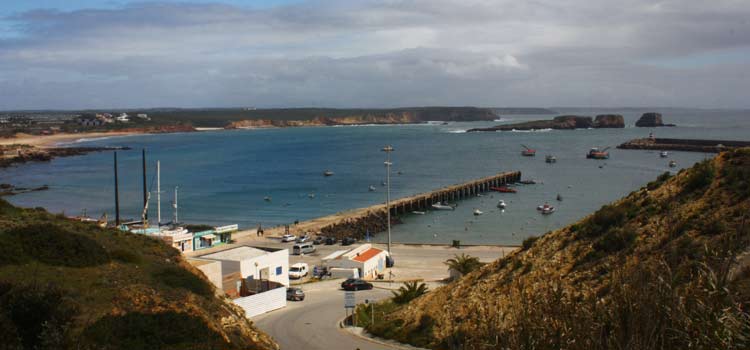 Sagres fishing harbour is sheltered from the power of the sea
Alternative day trips from Lagos include the quiet resort of Luz, the shopping town of Portimão and the hectic resort town of Praia de Rocha. All of these day trips can be reached by the inexpensive public transport and there is no requirement to hire a rental car.
Airport transfer to Lagos
The nearest international airport to Lagos is Faro Airport, 90km to the east. It is recommended to pre-book airport transfers before arriving in Portugal as Faro airport can get very busy and a taxi hire from the arrivals building will be very expensive. A private transfer will cost around €68 while a shared coach transfer will be around €25.
The regional train from Faro to Lagos
There are train and bus services from Faro (city not airport!) to Lagos and the journey takes around 1.5 hours but departures are infrequent and do not continue late into the night. For an extensive guide about traveling from the airport to Lagos, please click here.
Should I go all-inclusive for my holiday?
Whilst it may take a little more planning, it is recommended to avoid all-inclusive holidays as local restaurants and bars are a fraction of the price. Lagos is a major tourist destination and all cuisines, tastes and food preferences are catered for. Dining out at local restaurants also helps to support the local economy rather than remotely managed multinational chains.
Portugal has an abundance of locally grow foods
How holiday in Lagos on a budget
Outside of the summer months Lagos can be a great budget destination, with excellent hostels and significant discount on hotels, while food and transport is inexpensive. It is recommended to book flights and accommodation as far in advance as possible; prices to this region only ever increase with time. Many hotel booking websites also allow visitors to make a reservation without paying a deposit, so book early to get the best price.
What airlines fly to Faro Airport?
All of the low-cost airlines fly to Faro Airport. Make sure to book these well in advance but always be sure of dates before confirming as flights with these airlines are non-refundable.