How about: Lagos Intro > Things to do > Day trips > 1 week > Best beaches > Airport to Lagos
Lagos Portugal - sights, activities, things to do and see
Lagos is a fantastic city that combines, stunning beaches, a delightful historic centre and a buzzing atmosphere. There is so much to see and do within the Lagos region, and this makes the western Algarve the ideal destination for tourists who want more than just a great beach for their holiday. This wide variety of sights and activities ensures Lagos suitable for a range of tourists including families, young couples and the more mature visitor. This guide will detail the most popular sights and things to do during a holiday or visit to Lagos Portugal.
Explore the historic centre of Lagos
Unlike many other resort towns, Lagos is an important city that is steeped in history, and the variety of historical monuments and buildings reflect this varied past. Fascinating buildings include the beautiful Santo Antonio church, the Mercado dos Escravos (Europe's first slave market) and the charming 17th century Bandeira Fort. Half a day can be easily spent exploring the historic centre with its narrow cobbled streets, traditional houses and pretty harbour front. Very few towns in the Algarve have the variety of historic buildings and this is why Lagos is so popular as day trip.
The water front of Lagos
The Ponte da Piedade
The Ponte da Piedade are a series of beautiful sandstone cliffs, that are considered as the finest natural phenomena of the western Algarve. Over the centuries powerful storms have battered these exposed cliffs to form unique rock formations that include, caves, grottos and sea arches, all of which are set amidst the turquoise seas. The cliffs are stunning when viewed from land but are simply magical when explored by boat, and these can be chartered from Lagos harbour.. For a guide to the Ponte da Piedade please click here.
A sea arch at the Ponte da Piedade
Relax on the Beaches of Lagos
Lagos has glorious beaches that range from the vast Meia Praia through to the charming Praia da Batata, that stands at the base of the Ponta da Bandeira fort. The coastline south of Lagos offers small sandy coves hidden behind the steep sandstone cliffs, and are exemplified by the beautiful Praia do Ana beach. Further to the west is the Praia de Porto de Mós a popular beach for surfing due to the large waves.
The sea waters surrounding Lagos are clean and safe but are shockingly cold (16-18C) as they are fed by the Atlantic Ocean. Lagos' beaches are busy in the summer months but tend to be less crowded than the central Algarve region. For a guide to the beaches of the Lagos region please click here.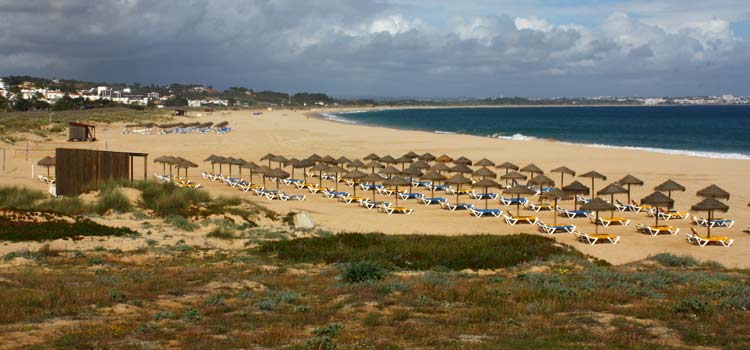 The golden sands of the Meia Praia (half beach)
Day Trip to Silves – Lagos things to do
Silves is an incredibly scenic town, situated on the banks of the Arade River, with cobbled streets, traditional painted Portuguese houses leading up to the imposing red brick castle. The castle was constructed by the Moors, as Silves was the capital of the Algarve during the 10th century and was used to defend the fertile lands of the region. Silves is best described as the quintessential Portuguese town and makes for a fantastic day trip from Lagos. Lagos is connected to Silves by the infrequent regional train. For a guide to Silves please click here.
Silves is a charming town for a day trip
Lagos Zoo
Lagos zoo is ideally suited for families with younger children. The animals are well cared for and the selection of animals includes birds, wild cats, and a petting farm for small children. The standout feature is the monkey island which contains many adorable monkeys! The entrance fee is €16/€12 (adult/child) and the zoo is open all year round. More information can be found at their website:
(link opens new window)
Day trip to Sagres and the Cabo Sao Vincent
Sagres is a destination for visitors who appreciate nature's raw power and enjoy outdoor activities. The western edge of the Algarve is characterised by massive cliffs, vast beaches and truly powerful seas, while the town of Sagres has a raw and rugged appearance and atmosphere. There is a regular bus service from Lagos to Sagres and makes for an enjoyable alternative day trip. For a guide to a day trip to Sagres please click here.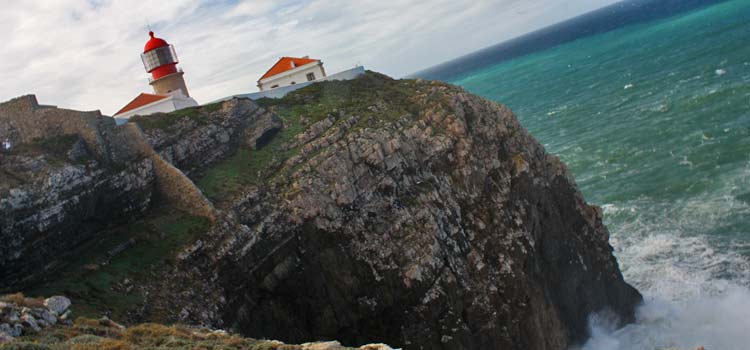 The Cabo Sao Vincent, the most south-westerly point of mainland Europe
Hire a bike and cycle
A bike allows for the whole region to explored and there are many quiet roads that are ideal for cycling along. One of the best destination is the route from Lagos, along the coast to the town of Praia da Luz. Bikes can be hired for €10-15 per day.
Bikes for rent in the centre of Lagos
Surf at Praia de Porto de Mós
The Praia de Mos has excellent waves and is a great location to surf or body board. Lagos has surf schools and equipment can be hired in the city. More experienced surfers should head towards Sagres where there are some of the best surfing locations in Portugal.
There are surf lessons at Mós beach
High Ropes and forest adventure
Tired of all of that eating and sitting around? Well then go to Luso Aventura for a forest adventure, which contains high rope walkways, vertical nets, cobweb and monkey bridges that span the forests just to the east of Lagos. This is suitable for children and adults as there are varying levels of difficulty, the 2 hour "fearless" course cost €17, for more information see the Luso Aventura website:
http://www.lusoaventura.com/uploads/PDF/Folheto_Parque%20Aventura_Lagos.pdf
(link opens new window)
Eat and drink – Things to do in Lagos
Lagos has an excellent section of restaurants, cafes and bars which cater for both tourists and locals. Many of the tourist-focused restaurants are nestled in the historic centre and provide enough variety to cover every taste, preference and cuisine style. Dining out in Portugal is significantly cheaper than back at home, and at lunch there will be "meal of the day" offers. There is an equally good mix of bars and late night establishments, and Lagos has a vibrant nightlife scene.
A glass of Sagres beer is the best way to start any night in Lagos
Boat trips, tours and fishing trips – Lagos things to do
Departing from the Lagos Marina are an assortment of different boat trips, which include tours of the coastline, dolphin spotting and deep sea fishing. For the more adventurous there are speed boat tours, jet boats or jet-skis, typical cost are:
• 2 hour caves/grottos tour €20/€10 (adult/child)
• 2 hour Dolphin tour €40/ €30 (adult/child)
• 3 hour fishing for snapper, mackerel, grouper €40/€25 (adult/child)
All of the tickets can be purchased from the ticket stalls which line the estuary
A tour boat along the Algarve coastline
Try Portuguese Food
Lagos is an ideal location to try local and traditional Portuguese cuisines. Portuguese foods tends to be heart and filling (often served with rice, chips and bread as a starter) and Algarve specialities are based around freshly caught fish or shellfish. One dish to try is Cataplana, a seafood rice stew, that is both cooked and served in a large copper dish that resembles the key ingredient, clams. Cataplana is designed to be shared, with the copper dish being placed in the centre of the table. Locally produced wines are the perfect accompaniment for any meal!
A delicious prawn Cataplana
Water Parks – Lagos activities
There are many great water parks in the central Algarve region and the closest to Lagos is Slide and Splash (near the town of Lagoa). These water parks are great fun for children, teenagers and adults and within the safe and well-maintained complexes are gravity defying flumes, near vertical slides and colossal rubber ring rides. The only downside are the overly inflated entrance fees of around €27/€19 (adult/child), which dampen the bill payer's spirits. Transfers can be organised from Lagos (which is 25km away) and links to the English websites are:
http://www.slidesplash.com/en/
(links opens new window)
Zoomarine – Lagos sights
Zoomarine is wonderful marine park that specialises in dolphins, marine life and topical birds. In the marine park there is a diverse selection of activities including dolphin shows, aquariums, and a good water park with slides, wave pools and rapids. The animals of Zoomarine are kept in modern facilities and all are well cared for. The variety of attractions means Zoomarine is ideal for both families and young couples but again has a steep entrance fee of €29/ €19 (adult/child). Zoomarine is in the central Algarve (40km drive) region but is a great day trip for families.