Lagos Intro > Sights & Activities > Day Trips > 1 Week in Lagos > The Beaches > Airport to Lagos > Sagres Day Trip
Praia da Batata Beach, Lagos
The Praia da Batata is the closest beach to the centre of Lagos and is situated in the shadow of the charming Bandeira Fort. The beach is just a short walk from the main tourist area at the southern end of the Avenida dos Descobrimentos the main road of Lagos. The Batata beach is relatively small and tends to get very crowded at the weekend during the summer months but it is an easy option for just a quick trip to the beach.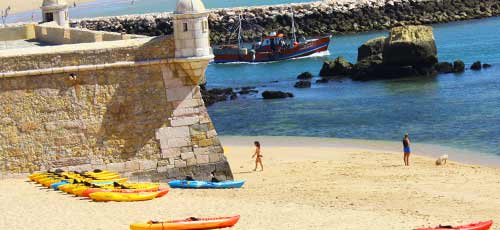 Praia Praia Batata and Fort da Ponta da Bandeira
Praia da Batata Tourist Information
Being so close to Lagos there are very good facilities with numerous bars, restaurants and shops within walking distance. The beach is popular with families due to the close proximity of Lagos and the calm, current free seas but the water quality is not as good as other beaches due to the close proximity of the mouth of the harbour. The Praia da Batata main good points are focused around the pleasant surroundings which include the fort, the cliffs and the views out across the harbour and bay.
The Praia da Batata is often referred to as the town beach as the city centre is less than a 5 minute walk away. At northern edge of the beach stands the delightful 17th century Fortaleza da Ponta da Bandeira fort while the beach is divided into two by a long concrete pier. The northern section of the beach is sometimes reffered to as Cais da Solaria. To the southern end Batata beach is bounded by steep cliffs, these cliffs hide two further beaches that are always significantly quieter than the Praia da Batata.
The Batata beach can be walked tofrom Lagos
The beach is supervised by a lifeguard during the summer season but, as indicated in the introduction, the water quality fluctuates due to the harbour. As the beach faces east and is protected from the Atlantic Ocean by the huge headland there are almost no waves and most Portuguese families allow their children to swim in the still waters.
The southern section of Batata beach