Lagos, Portugal guide - fully updated for 2021!
Lagos is a historic and characterful city that is situated on the beautiful Western Algarve.
It is a city that boasts a rich seafaring heritage and a coastline of dramatic natural scenery, and today is one of the Algarve's finest holiday destinations.
For a holiday, Lagos offers picturesque beaches, buzzing nightlife and outstanding tourist facilities. Thankfully, Lagos has not succumbed to mass tourism, and the city still retains its distinctive character and charm.
Found within the historic centre is a proud Portuguese city, with cobbled streets, authentic restaurants, and an atmosphere which is relaxed and welcoming. Lagos perfectly combines traditional Portuguese culture, with beautiful beaches and modern tourist facilities.
The region surrounding Lagos offers varied and exciting activities, along with many fascinating day trips. If you crave more than just beautiful beaches and glorious weather for your holiday, then Lagos is the ideal holiday destination for you.
Lagos is equally suited as a family holiday destination, there are safe and sheltered beaches for your children, while thrill-seeking teenagers will adore the theme and water parks.
This article will provide an introduction to Lagos, by answering some of the common holiday questions and providing links to further in-depth guides.
Related articles: 1 week in Lagos – Sights and activities - Beach guide
What is there to see in Lagos?
Lagos' extensive history is reflected in the varied attractions which are found throughout the city; there are ancient Moorish walls, a 17th-century fort and extravagant Baroque churches.
The focal point of Lagos is the pretty harbour estuary, whichand this leads past the small fishing harbour to the modern marina complex.
To the south of Lagos is the Ponta da Piedade headland, a series of highly weathered cliffs that are lined with spectacular grottos, arches, sea caves, and are regarded as the finest natural feature of the Algarve. Extending to the east of Lagos is the 4km long Meia Praia Beach, the largest sandy beach of the western Algarve, while within the Ponta da Piedade headland are the picturesque cove beaches of Praia da Dona Ana, and Praia do Camilo.
There is a lot to see within Lagos, and the city is one of the most popular destinations for a day trip.
Related articles: Sights and activities in Lagos - Top 10 Algrave
How long should I spend in Lagos?
Lagos is ideal for your 1-week holiday. A week in Lagos could combine time on the beaches with excursions to the towns of Sagres, Silves, Praia da Luz and Portimão.
As Lagos is a major city, there is a wide selection of restaurants and bars, and it is easily possible to eat (and drink!) somewhere completely different every day.
If you are touring southern Portugal, you should plan to spend at least two days in Lagos. The first day would explore the historic sights of the town and the second day would visit the dramatic Ponta da Piedade cliffs and the beautiful beaches. Alternatively, Lagos could be used as a base from which to explore the Western Algarve, as the city is the main transport hub for the region.
Related articles: 1 week in Lagos - 3 days in Lagos
Lagos as a day trip
Lagos is an enjoyable destination for a day trip, offering a blend of historic and cultural sights along with gorgeous natural scenery.
There is excellent public transport to the city and it is one of the best day trips of the western Algarve region.
The interactive map below shows a suggested route for a day trip to Lagos which begins at the train station. The yellow section shows the additional walk to the Ponta de Piedade headland.
Sights along the route: 1) Lagos Marina 2) Municipal market 3) Gil Eanes plaza 4) Former slave market 5) Saint António Church 6) Saint May's church 7) city walls 8) Saint Gonçalo city gate 9) Ponta da Bandeira Fort 10) Batata beach 11) Pinhão beach 12) Dona Ana beach 13) Camilo beach 14) Ponta de Piedade 15) Discoveries waxwork museum 16) Meia Praia beach
Who should visit Lagos Portugal?
The extensive range of sights and activities means that Lagos is perfectly suited for a range of different visitors, and this includes families, couples or more mature visitors.
Visitors seeking a cultural holiday will be impressed by the number of historical monuments and the traditional heritage of Lagos, while younger couples will discover lively nightlife and numerous exciting activities.
Advice: Lagos is not suited for groups wanting to drink and party excessively (typically stag or hen do's), for this head to the Strip in Albufeira.
Related articles: Albufeira guide
Is Lagos suitable for my family and children?
Lagos is an excellent destination for a family holiday. The city boasts a wide selection of family friendly hotels, while restaurants, attractions and activities are welcoming of children. Lagos is more relaxed than other larger resorts, such as Albufeira or Praia da Rocha, and is very safe and tends to be less hectic during the evening.
The beaches of Lagos are clean and there are sheltered beaches for swimming or spalshing in, which during the summer, are supervised by lifeguards. Lagos Zoo is great excursions for younger children, and children of all ages will enjoy the dolphin watching boat trips that depart from the harbour.
If you are on holiday with older children and teenagers, they will also be fully entertained, as the Algarve offers a diverse selection of activities, which are designed for their age range. The activities include; the waterpark of Slide & Splash, the marine park of Zoomarine and the ropes course at Luso Aventura.
Zoomarine - https://www.zoomarine.pt
Slide & Splash - http://www.slidesplash.com
Luso Aventura - http://www.parqueaventura.net/lagos/
When to visit Lagos and Southern Portugal?
The Algarve is blessed with a glorious climate of hot summers and pleasantly warm springs and autumns. The summer months of southern Portugal are characterised by their hot dry weather, with temperatures reaching a maximum of 35C.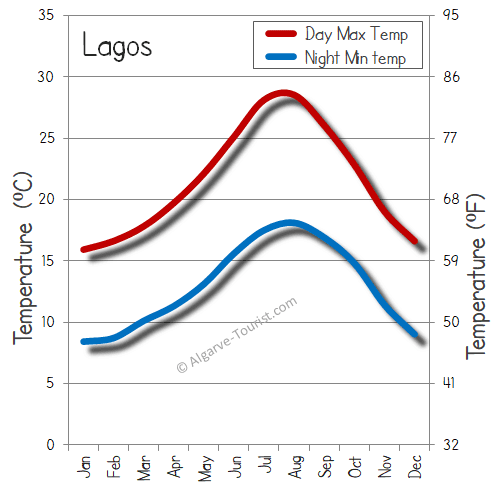 The Spring and Autumn seasons are bright and sunny, and the Algarve boasts over 3,000 hours of sun a year (compared to 1,450 hours for London, 1,840 for Paris or 2,150 hours for New York). Temperatures in Lagos are suitable for spending time on the beach from early May through to mid-October.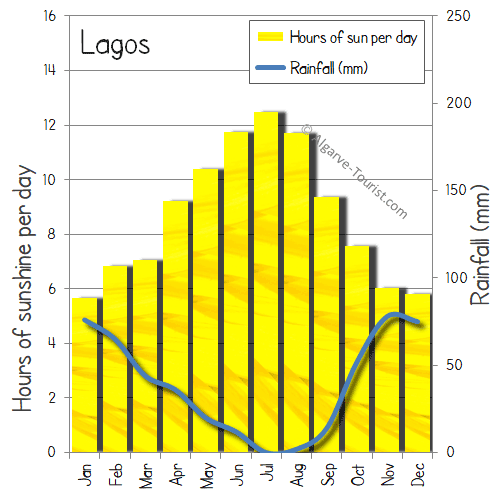 Winters are mild, but the weather can be unpredictable with an equal number of good or bad weather days. Lagos has a large permanent population, therefore most restaurants and bars remain open year-round, while certain tourist services reduce through the winter. The winter is a great time of year for a hiking, cycling or touring holiday.
Related article: When to visit Lagos
Lagos for 2021
Lagos is expecting a sell-out summer season for 2021, as more visitors seek holidays to safe and established destinations within Europe.
As with many other tourism destinations, the Algarve was severely hit by the events of 2020, but by the time you visit the difficulties of 2020 will be a distant memory.
As Lagos is expecting a sell-out 2021, we strongly advise you to get your flights and accommodation as soon possible before they increase and sell out.
The map below shows the best hotels and accommodation in Lagos, if you adjust the dates to your holiday it will display current prices and availability.
Does Lagos have great beaches?
Lagos has some of the finest beaches of southern Portugal and within walking distance of the town are four beautiful beaches. The Meia Praia is a vast sandy beach that extends for 4km, while the Praia Dona Ana and Praia do Camilo are beautiful secluded beaches that are surrounded by golden coloured cliffs and lapped by crystal clear sea waters.
On the south-western side of Lagos is the Porto de Mos beach, an area popular with resort hotels and holiday homes, and a great choice if you prefer not to be in the centre of the busy city.
The sheer number of varied beaches within the vicinity of Lagos means that, even at the height of the summer, space can be easily found for a relaxing day under the glorious sun.
Related articles: Beaches of Lagos
The Ponta da Piedade
The Ponta da Piedade is a series of highly weathered cliffs that form the southern headland of Lagos. The powerful Atlantic Ocean has chiselled stone arches, grottos and sea caves into the colourful golden cliffs, and these cliffs are considered the best natural feature of the Algarve.
There are scenic hiking routes along the top of the headland, but a more enjoyable experience is to hire a boat and navigate the unique rock formations.
Related articles: Ponta da Piedade guide.
What are the best day trips from Lagos?
The two best day trips from Lagos are to the historic town of Silves and the surfing town of Sagres.
Sagres is at the western tip of mainland Europe and is a region savaged by ceaseless winds and mighty Atlantic seas. The town is a popular surfing destination and is ideal for tourists who appreciate nature's raw power.
Silves was the ancient capital of the Algarve and remnants of this glorious past are found throughout the peaceful and relaxed town. The prominent feature of Silves is the massive red brick castle, while traditional houses and shops line the cobbled streets that lead down to the river.
Related articles: Day trip to Sagres - Silves introduction
Alternative day trips from Lagos include the peaceful resort town of Praia da Luz, the shopping town of Portimão and the hectic resort town of Praia da Rocha. All of these day trips can be reached by the inexpensive public transport and there is no requirement to hire a rental car while on holiday to Lagos.
Airport transfer to Lagos
The nearest international airport to Lagos is Faro Airport, which is 90km to the east of Lagos. There are infrequent train and bus services from Faro city to Lagos, but these routes do not pass close to the airport, so a bus or taxi is needed to travel from the airport to Faro city centre.
private transfer (€75, 60min journey) is much quicker, whereas a shared minibus transfer (€25, 100min journey) is a cheaper option. Lagos is one of the destinations we strongly recommend organising a transfer to, as public transport is veryso poor and a taxi hailed from the terminal will be very expensive (+€110).
Related article: Faro airport to Lagos
Our most popular articles for Lagos