Lagos (Portugal) weather and when to visit?
The Algarve town of Lagos is situated on the Western edge of the region and has a dramatic coastline that has literally been carved by the Atlantic Ocean. This geography gives Lagos a beautiful Mediterranean climate with prevailing ocean breezes and mild winters, which can have intermittent rainfall.
In the peak season the temperatures are typically in the high-20s (degrees Celsius), the sun shines most days and the ocean breeze is gentle. For sunseekers, this is the perfect time of year for beach days, and Lagos has a fine selection of sandy stretches and secluded coves to choose from.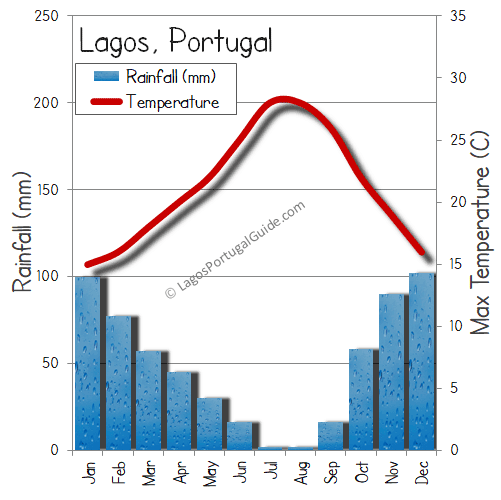 Like much of the Algarve in the shoulder seasons of Spring and Autumn, Lagos relaxes and the crowds disperse. The heat is lower, leaving warm days that are comfortable for relaxing on the beaches or being more active. The centre of Lagos is still very much alive in Spring and Early Autumn and the nightlife is still enjoyable without the mass crowds.
Lagos is understandably quieter in winter as much of the appeal lies with its fabulous coastline and beaches. In winter the weather is less predictable and a mixture of sunny to cloudy days with a moderate chance of showers.
Read on for detail about when to visit to get the perfect holiday for you, and what to expect from each of the different seasons.
Related articles: Introduction to Lagos – Sights and activities - Beach guide
When is the best time of year to visit Lagos
Late spring (May-June) is the best time of year to visit Lagos.
In Spring temperatures are starting to warm up (often ranging from 20-25 degrees Celsius) and days are sunny with some clouds. Rain is rare, and the offshore breeze makes walking comfortable.
This consistent weather pattern is great for making the most of everything Lagos has to offer without the packed beaches and crowded restaurants. The springtime daylight hours (9-10 hours on average) also make sure that tourists can combine beach trips with local sightseeing, water-based activities or day trips to other Algarve highlights.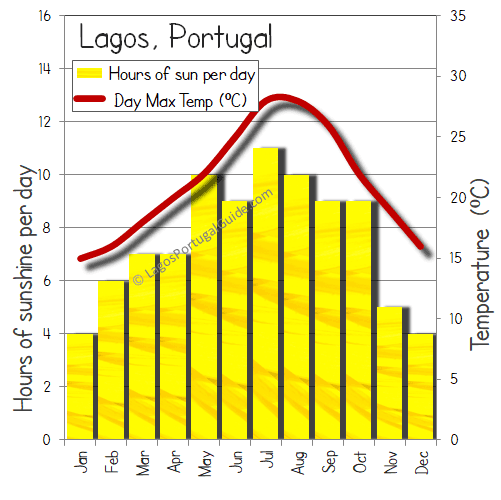 The city itself has a wonderful traditional feel in springtime and visitors can roam the streets endlessly with their characteristic tiled floors, whitewashed buildings and unique historical features. There are walking tours, self-guided tours and a plethora of sights that all look best in the spring sunshine.
The beaches and natural sights are welcoming and comfortable to sunbathe on from May onwards, yet they are not packed so visitors can choose a different location each day. The relatively cool weather also makes hiking, biking and coastal wanders really comfortable and easy-going.
Overall, springtime offers all of the charm, sights and fun of summer without the sizzling heat.
Lagos for 2023
Lagos is expected to book up extremely quickly for both summer and Autumn 2022 as holidaymakers will be desperate to enjoy the sunshine and culture of the Algarve.
As Lagos is a top destination in the Algarve, it will sell out fast and we strongly recommend booking flights and accommodation as soon as possible. The map below shows the best hotels and accommodation in Lagos, if you adjust the dates to your holiday it will display current prices and availability.
The different tourist seasons of Lagos
Peak Season (July – August)
In peak season Lagos is hot and days are often cloudless. Temperatures are consistently upwards of 25 degrees Celsius and can easily soar into the 30s.
The direct sunshine is intense between 11am and 3pm and wise tourists plan their day around this, although many visitors will still flock to the local beaches and waterparks (Slide & Splash) to soak up the weather.
Due to the close proximity and amenities of Praia da Batata, many families will cram onto this safe, sandy stretch or head across the Estuary to the 8.5km stretch of Meia Praia. Tranquillity is hard to find in peak season and will often require clambering over rocks, a small hike or your own transport.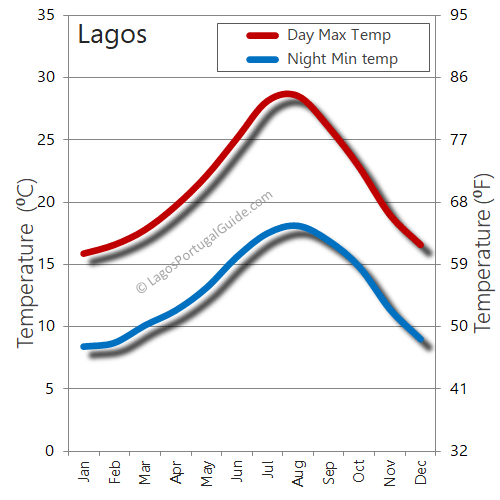 Summertime daylight hours are long (approx. 12 hours) so those wanting to take a day trip or tour the dramatic coastline should rise early when temperatures are much more comfortable.
Night-time in Lagos can be hectic in the summer months and the bars around Rua 25 de Abril are a hotspot for young, party focused tourists.
Peak season weather at a glance
• Daytime temperatures: Mid 20s degrees Celsius (highs of mid-30s)
• Night-time temperature: Early to Mid 20 degrees Celsius
• Weather: Consistent sunny, clear days with low chance of rainfall. Occasional light breeze.
• Sunrise and Sunset: 6.30am/8.30pm
Mid-season (April, May, September, October)
Lagos' picturesque centre and unique beaches are at their best in the mild temperatures of Spring and Autumn. The amount of party-goers and foreign tourists decline and Lagos feels distinctly more Portuguese.
Midseason days are likely to be sunny and bright. As such, visitors can cram a lot into each day and see more of the Algarve than in the summer heat.
The town centre and historical sights make for a wonderful day exploring. Tourists can visit the beautiful churches or take day trips to historic Silves, the fishing town of Sagres, or the Cabo de São Vicente, the most westerly point of mainland Europe.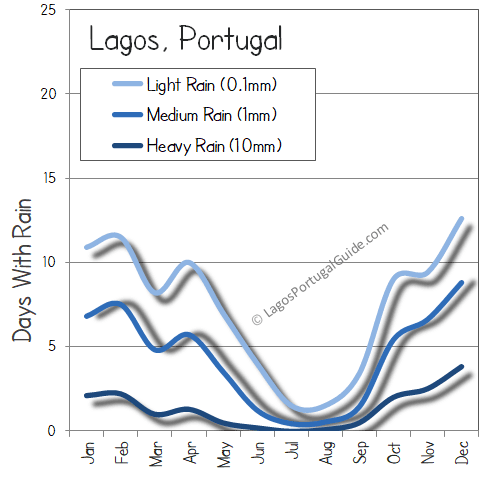 Sunbathing on the beaches in the Algarve is recommended from May to September and in the shoulder seasons there is a much higher chance of finding a peaceful patch of sand. Great mid-season beaches to walk to are; Praia Dona Ana and Praia do Camilo. These are both secluded cove beaches with gentle clear waters and stunning rock formations.
In the mid-seasons, those lucky enough to visit Lagos will also find there is a wide range of water sports, biking, hiking and golfing opportunities. Those keen on surfing should take a day trip to Sagres which has great waves and a relaxed beach vibe.
Mid-season weather at a glance
• Daytime temperatures: Early 20 degrees Celsius
• Night-time temperature: 10-15 degrees Celsius
• Weather: Sunny days with a mixture of blue skies and some cloud. Infrequent light rain showers and a gentle ocean blowing breeze (in evenings a jacket is needed)
• Sunrise and Sunset: 7am/7.30pm
Low season (November – March)
Lagos feels much more peaceful and distinctly Portuguese in winter once the sun-seeking tourists leave. In low season, the weather is less consistent although still relatively mild and sunny. It is wise to expect some cloudy days and a chance of moderate rain showers. Therefore, Lagos is not recommended as a winter sun destination and the beaches are no longer suitable for sunbathing on.
However, for those less interested in the beaches, winter is a good time for a cultural and touring break. For those interested in trying the local cuisine, drinks and products; many of the finest restaurants, bars and shops stay open and booking ahead is not needed.
The cooler weather, breeze and strong sea currents in the winter are a great time for seeing the coastline at its most dramatic.
The Estuary area provides a gentle walk and from there visitors can stroll the beaches or head further west to the headland too. In winter it is worth checking the forecast before heading off on a long coastal walk or packing a light waterproofs just in case. It is also worth gauging the safety of descending steps dependent on the breeze and sea.
Low season weather at a glance
• Daytime temperature: 10-15 degrees Celsius
• Night-time temperature: Evenings cool to about 0-10 degrees Celsius
• Weather: Equal mixture of sunny and cloudy days. Moderate rainfall and some stronger winds.
• Sunrise and Sunset: 7.30am/5.30pm
The seawater temperatures
Due to its proximity to the Atlantic Ocean, the seawater temperatures around the Algarve are particularly cold compared to other Mediterranean destinations.
Temperatures reach a high of 18C in the summer and can drop as low as 14C in the winter.
If you intend to swim in the sea for long periods or partake in water sports, it is recommended to wear a wetsuit.
When best for young families (Easter to July)
Lagos is a great Algarve destination for families in most seasons (except winter) as the resort has lots of life, entertainment and great beach amenities.
However, Lagos' weather in spring is particularly good for families with young children. The weather is sunny and warm without the soaring heat of the summer, which can be exhausting for little ones.
The long days also make springtime ideal for early morning trips and eating out in the evenings. Night-time temperatures often cool too, which is great for sleeping without air conditioning or fans.
In spring the town centre is alive but much quieter and safer with little explorers in tow. The nearby beaches of Praia da Batata and Meia Praia are also much quieter but still attended by lifeguards.
For families with teenagers, there are good day trips to other local 'cool' destinations, such as Sagres where youngsters can take a water sport lesson. The waterparks are open from Easter onwards and are much more fun without the summer queues.
When to visit for older people (September to October)
Lagos' weather in Autumn is typically mild and daylight hours are still relatively long (9-10): This makes it ideal weather for day trips and Lagos is a wonderful base to explore the popular Western Algarve.
Visitors in Autumn will experience a distinctly Portuguese Lagos as locals are no longer swamped by tourists. Restaurants, historical and cultural sights are still open but do not need to be planned or booked in advance.
Roaming the centre and Estuary (down to the Bandeira fort) feels relaxed and the sun is warming rather than baking.
The beaches are also quieter but still very comfortable to relax on and some of the walkable beaches can almost feel peaceful and secluded again. Boat trips also still run but highlights, such as the Benagil Caves, are less crowded. For those interested in golfing the Algarve offers great courses and the closest course to Lagos is sublime.
Overall, Autumn feels more relaxed and slower-paced than other seasons.
Our most popular articles for Lagos